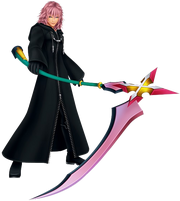 "As lightless oblivion devours you, drown in the ever-blooming darkness!"
—Marluxia, before the final battle in Kingdom Hearts: Chain of Memories
Marluxia, the Graceful Assassin (優雅なる凶刃, Yūga-naru Kyōjin?, lit. Graceful Assassin's Blade), is Rank XI within Organization XIII, the lord of Castle Oblivion and the main antagonist of Sora's story in Kingdom Hearts: Chain of Memories. He controls flowers, and uses his control to command beams of destructive energy from flower-themed minions, bombard the opponent with flurries of petals, and to attack opponents with his massive scythe.
Originally discovered by senior Organization members Xigbar and Xaldin, Marluxia is the mastermind of an internal rebellion in the Organization against Xemnas. Marluxia makes an appearance in Kingdom Hearts 358/2 Days, and is a playable character in Mission Mode.&nbsp
Community content is available under
CC-BY-SA
unless otherwise noted.